WITH expectations for the Linden athletes running high, several of them delivered yesterday at the National Track and Field Centre in Leonora, with Chantoba Bright topping the lot with her record-breaking leap in the Girls' Under- 18 long jump finals, helping to propel Upper Demerara/Kwakwani (District 10) to an early lead when competition in the National Schools Championships continued yesterday.
District 10's Deshanna Skeete clocks the best performance in the Girls' Under-16 400m heats.(Samuel Maughn photo)Over in the day's 400m heats, Williams and Deshanna Skeete put out the best times in their respective heats, showing great promise for District 10 as they battle to defend their track and field competition title.District 10 now stand ahead in the track and field competition with 87 points after 17 finals. Just on their heels are the Corentyne (District 6) with 73 points.Bright obliterated her own previous 5.47m record, which she set last year, after clearing 5.89m last night, as the competition continued under floodlights.However, Bright was not the only one who set records yesterday. At least three other records toppled, starting with West Demerara's Carl Williams 7.11m jump in the Boys' Under-20 long jump. Williams erased the previous 6.90m record that was held by fellow Westsider Rickford Deane, when he covered the distance in 1991.Yet another record was trumped by District 4's Toyan Raymond in the Girls' Under-20 long jump. She jumped 5.73m, surpassing the 5.47m record set by Michelle Vaughn in 1996.South Georgetown's Wesley Tyndall clocked 54.50 seconds in the Boys' 400m heats, to shave just milliseconds from Daniel Williams' 54.9 seconds record that was set in 2013.In the day's 400m heats, Williams and Deshanna Skeete put out the best times of the day in their respective heats.It was a day full of excitement, and upsets, but also a day of some serious disappointment, the biggest of which was suffered by North Georgetown (District 11) as they watched the Girls Under-18 400m go off without their star athlete, Kenisha Phillips.Phillips, apparently, has withdrawn from the Championships citing injury – a major blow to the Georgetown team, who were already facing an uphill battle in trying to put together a fight against District 10.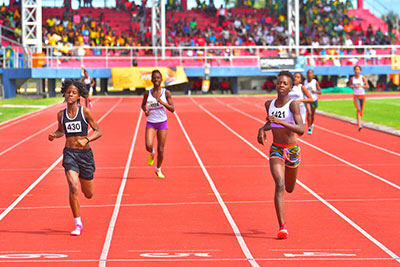 District 14's Odessa France (right) battles it out against District 4's Hanna Reid in the Girls' Under-14 400m heats. (Samuel Maughn photo)South Georgetown (District 13) are currently at third with 66 points, but only just, as East Coast Demerara (District 4) stand just one point behind.West Demerara (District 3) follow with 48 points, and in a surprising turn of events North West (District 1) have a healthy 47 points, on a day when the only finals completed were field events.North West are not known to participate successfully in their field events for some time now, but 2017 is obviously the year for a change. West Coast Berbice (District 5) have 45 points.This now leaves North Georgetown in eighth after 17 finals, with 40 points. North Georgetown share that position with Rupununi (District 9) who also have 40 points.With 38 points Essequibo Coast/Pomeroon round out the top ten.
read more